Humans are the weakest link in the cyber security chain when it comes to being targeted. Social engineering has been a largely successful attack vector for cyber criminals and threat actors alike. In the last few years, every major cyber incident has had a human at the heart of it; attack vectors such as phishing, spear phishing, vishing, and pretexting come to mind.
It is of the utmost importance that the employees understand cyber hygiene and common tactics deployed by malicious actors to lower the risk of being social engineered.
Risks and Issues

You Face Without Security Awareness Training
In the absence of proper cybersecurity training, you are literally opening the doors for cyber attacks. Staff training in cybersecurity is essential to lowering the risks and burdens on your business. Without adequate personnel security training, your company may be vulnerable to online attacks.
It's critical to undergo cybersecurity awareness training to lower the chance that one of your employees could unintentionally pose a cybersecurity danger.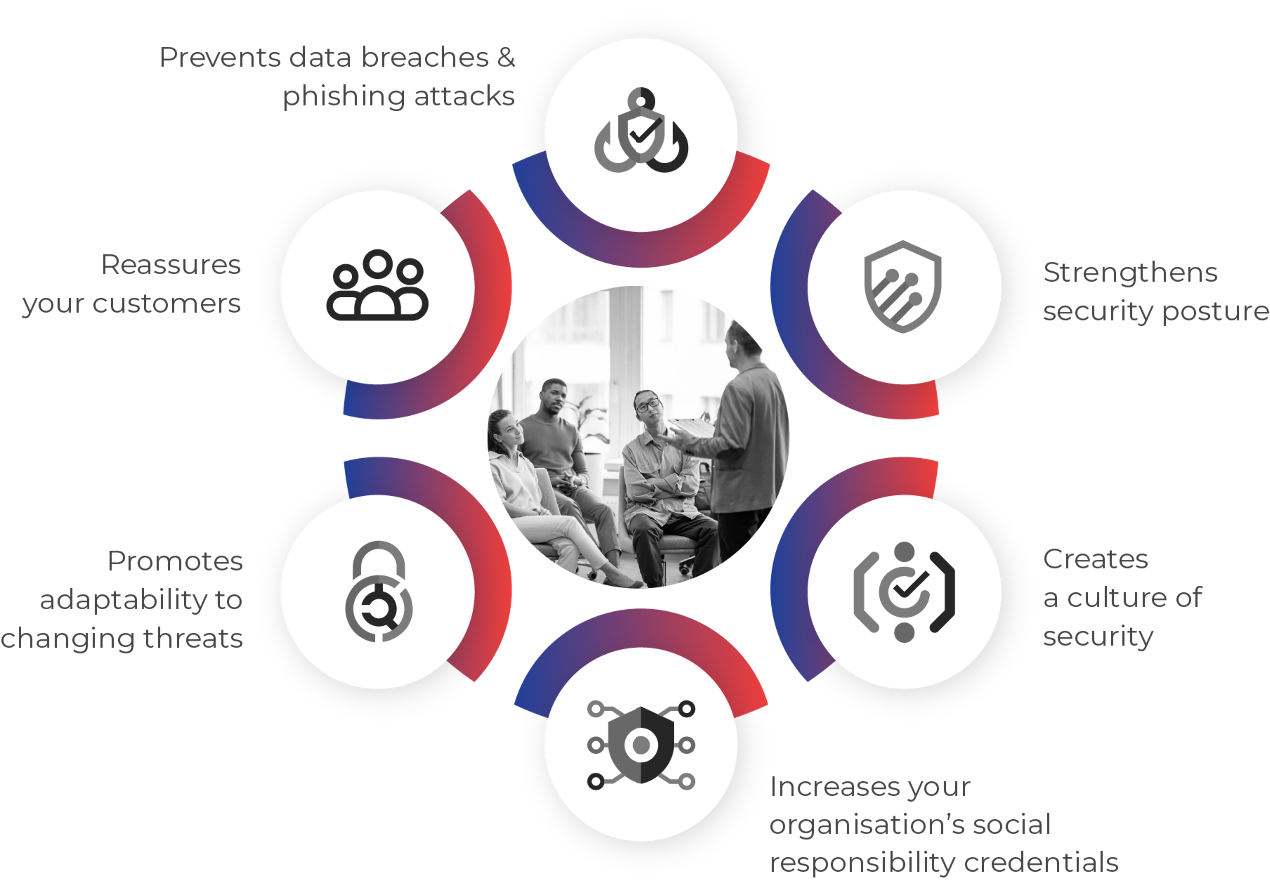 AWARENESS TRAINING

HELPS YOU HOW?
We provide custom-tailored programmes to create security awareness among the people of your organisation, preparing them for real-life attacks.
Protect Your Organization by Monitoring the Threats Your Employees Face
Physical entry
Attempting to gain unauthorised access to buildings
Phishing campaigns
Phishing and spear phishing techniques to trick users via email
Baiting
Tempting users into disruptive actions that threaten security
Impersonating
Impersonating members of staff to obtain information or access
Watering hole attacks
Used to target members of a particular group
Dumpster diving
Your trash may lead to direct network compromise or provide leverage
What Are Social Engineering
Engagements
All attacks that seek to influence human behaviour to obtain an advantage or inside information about a target are considered social engineering. Here are some typical examples of social engineering engagements
How to Mitigate

Against Accidental
Insider Threats?
The term "accidental insider" refers to someone whose actions unintentionally affect the organisation in a
significant way. Phishing is the most typical example of this. Internal resources may unintentionally be
subjected to a ransomware assault as a result of an employee clicking on a link.
Having the fundamentals of security in place is necessary to safeguard an organisation from insider
threats. The fundamentals, however, must be viewed as crucial and susceptible to ongoing improvement
We advise organizations to identify user errors before they happen and stop them from
causing harm. This is how they can do it
Conducting a thorough evaluation exercise designed to comprehend your employees' technological and security posture.
Inspection and Remediation
Offer a comprehensive objective-based examination. Following this, security and technology configurations are to be remedied and corrected to ensure the development of a sturdy posture.
Providing technology-based simulation tests along with end-user awareness training programmes to ensure a continuously improved approach to employees' security maturity.
The provision of services to assist in the capability of detection, protection, and reaction to cyber attacks aimed at your personnel.
Our Assessment Methdology
A holistic approach to perform penetration test that not only discovers security vulnerabilities, but also finding
business logic vulnerabilities along with security checklists based on industry standards, including OWASP Top 10,
PCI Compliance etc.
Before initiating an assessment, GoAllSecure establishes a well-defined scope with the client. At this stage, we encourage open communication between our team and the client organization to lay a solid foundation for the upcoming assessment.
Consultants at GoAllSecure utilize a wide array of OSINT (Open Source Intelligence) methods and tools to accumulate extensive information about the target. This gathered data aids in comprehending the operational states of the organization, enabling us to accurately assess the risk as the engagement unfolds.
At this point, we gather our custom scripts and tools, along with other advanced methods for more sophisticated data collection. GoAllSecure specialists meticulously validate all potential attack vectors. The information gathered during this phase lays the foundation for further exploitation in the subsequent stage.
In this phase, we kick-start a combination of manual and automated inspections to identify potential attack vectors and vulnerabilities. Following this, we carry out exploitation to offer proof-of-concepts. We employ a variety of techniques, including open-source and bespoke tools during this stage. All these procedures are executed meticulously to avoid any disruption to your business operations.
This marks the culmination of the entire assessment. At this juncture, the experts at GoAllSecure consolidate all gathered data and deliver the client with an exhaustive, detailed report of our findings. This comprehensive document will include an overarching analysis of all identified risks, while spotlighting both the strengths and weaknesses inherent in the application.
Remediation & Further Action
After the process is finished, our team will review the report and identify suitable solutions for any detected bugs. Subsequently, an in-depth discussion will take place to address these vulnerabilities. We'll make certain that all modifications have been correctly implemented and all vulnerabilities are resolved. The team will deliver a thorough remediation or closure report, demonstrating the enhanced security status of the application.
Secure and Train Your Employees with the Best Cyber Security Experts